After the Dak Lak Police's emergency arrest of Dr. Pham Dinh Quy in the middle of the night with the charge of slandering which is stirring up the public opinion, many journalists recently announced on Facebook a letter addressed to the lecturers and students of Ton Duc Thang University of its suspended Rector Prof. Dr. Le Vinh Danh. Mr. Danh is being disciplined being suspended from work for 90 days and his lawsuit was refused by the court.
Mr. Danh wrote the letter on October 2, after a lecturer of the university, Dr. Master Pham Dinh Quy, met legal trouble.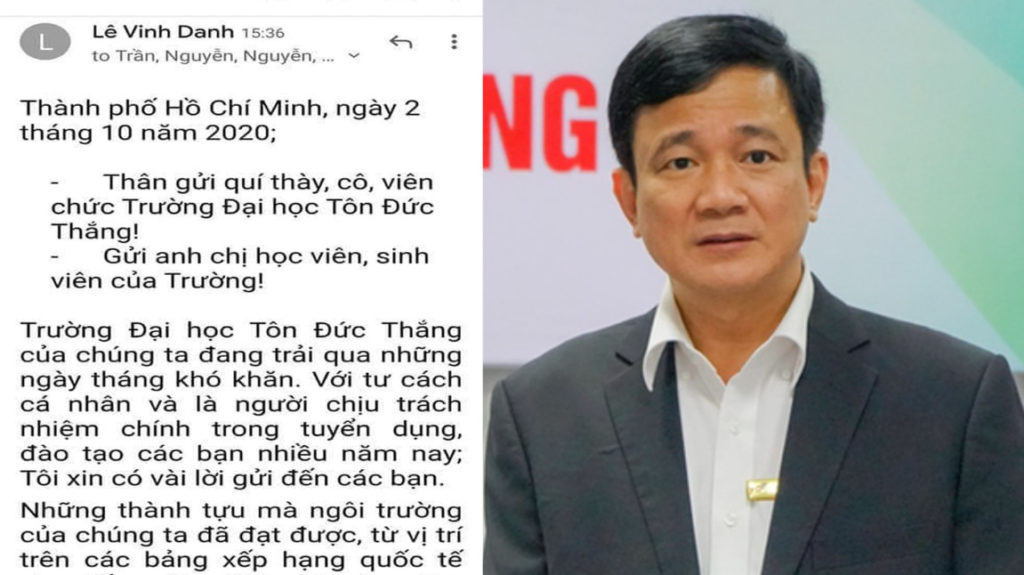 In the letter, Mr. Danh expressed his passion to build a world-class university with an aim to train global citizens. All projects that have been implemented are "with the intention of turning the university into a research university, an incubator for creativity to reform the country" and with "ideals and actions for the nation." Danh also implied that what was happening was aimed at undermining that ideal and the achievements of the university. He also expressed his confidence in the integrity of Dr. Pham Dinh Quy even though Mr. Quy was being accused of slander.
The full text of Dr. Le Vinh Danh's letter is as follows:
"Ho Chi Minh City, October 2, 2020;
– Dear teachers, teachers, and employees of Ton Duc Thang University,
– Dear students of the university,
Our Ton Duc Thang University is going through difficult days. As an individual and a main person responsible for recruiting and training you for many years, I would like to have a few words to you.
The achievements of our school, from position on international rankings to a world-class learning environment that some might think, we are striving to become an international university, to train global citizens.
But, for Ton Duc Thang University that you have spent all your sweat and wisdom, most of your life to building together, not just that.
Because, behind that international measure is the ideal and action of national service.
In this school, all projects have been and are being implemented, from the library to the Institute of Computational Science, from the Institute of Genetics and Breeding to the Vietnam-Finland International School, from school sports development to laboratories … were born with the intention of turning the university into a research university, an incubator for innovation to reform the country.
We have invested together in a future where Ton Duc Thang University becomes an elite school, where training people will make great and great contributions to the development of the country and the world in the long run.
What is happening can not destroy that ideal as well as the achievements already there.
Dr. Pham Dinh Quy came to our Ton Duc Thang University for sharing this ideal. And I fully believe in the integrity of Mr. Quy, even though he is facing charges of "slandering" others.
I hope that we – those of you who are friends, colleagues, who have been building this school together, will continue to keep your faith in Mr. Quy.
I also hope that the students who are students of Mr. Quy will continue to trust their teacher, as they have believed and selected Ton Duc Thang University as a place to grow and prepare for the future.
I understand that teachers and students are feeling anxious, even confused and helpless by the allegations of violation that the testing agencies have made to our school and me personally. I share this feeling with you.
But, I hope you will continue steadfast in the path we have opened together to preserve the ideal of school service.
I also hope you understand that your job is to continue to protect the unfinished educational projects, the innovations and creativity of our university over the past 13 years; to protect the future of a school on its way to becoming an elite research university, incubating ideas to reform the country, instead of protecting me personally.
My job, I have a duty to clarify and I believe superiors will have a fair reconsideration.
With this letter, I want to reiterate that every maid, guardians, students, lecturers, and staff members of the University are the subjects, together creating Ton Duc Thang University today. It was not readily available, nor it was from outside.
I am very grateful for this! And, believing that justice will endure, our university will definitely restore the form we have had over the past 13 years.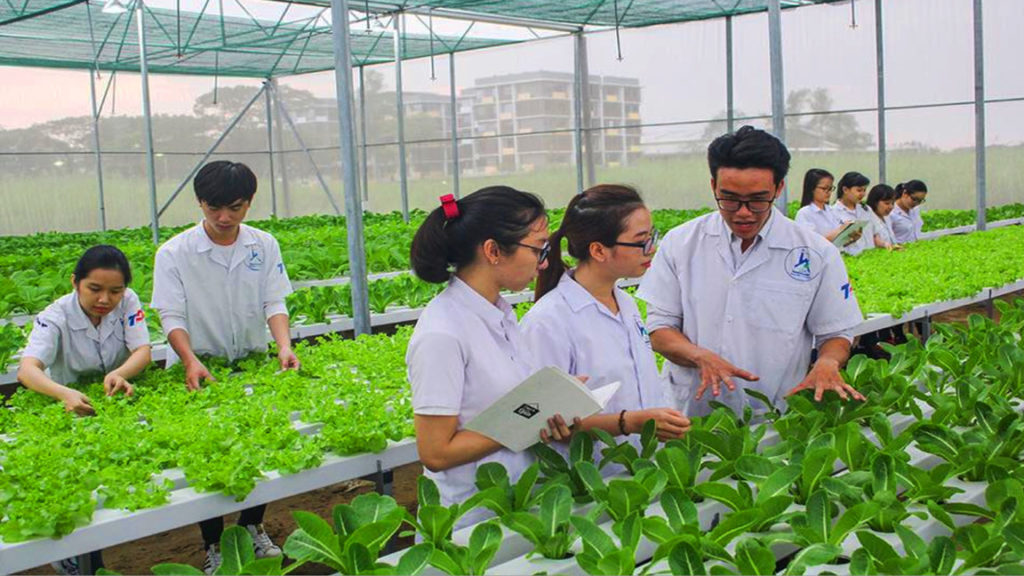 Commenting on the letter of Dr. Le Vinh Danh, journalist Pham Ngoc Hung wrote on his personal Facebook as follows:
"Mr. Le Vinh Danh defended the integrity of Mr. Pham Dinh Quy at the time of Mr. Quy's prosecution, which shows his leadership character worth mentioning.
The essence of the letter, however, was that Danh positioned himself as a reformer of higher education, and with firm-believe reasons, it was positioning of success.
This self-positioning also meant to push the Vietnam General Confederation of Labor and the Ho Chi Minh City Party Committee into a very bad political position, which is the position of conservatives trying to stop reform.
Although the struggle between the conservative and reform factions is still going on, reform is still an inevitable trend.
The letter places Danh at the vanguard of the reform faction in education, and so he may remain out of office but is likely to return to a different position when reform prevails.
Just hope it's not too late, because he is 57 years old.
If Danh is removed from office and dismissed, it also means that the reform faction has been crushed, and is a sign of a desperate future for the regime."
Regarding the plagiarism of the doctoral thesis of Secretary Bui Van Cuong, journalist Hoang Nguyen Vu commented on an article titled "The law cannot protect the stolen cadres!" with the following content:
"If it is plagiarism, just one sentence of another person without quoting, not recording the source, or using a generic document without specifying the reference source, is still stealing.
A dissertation can use many resources, possibly hundreds or thousands of books and works. But that does not mean being allowed to immaculate one's work as if you write it, as if you do research – it is blatant stealing and deception.
To be a Ph.D., which steals other people's brainpower, is a kind of shameless kind. If we have no integrity, we are not qualified to lead whom, to manage whom, to teach whom, let alone sit on top of people's necks.
Even though the thesis examines the "stealing" rate within the allowed category, it is a matter of science. As for the morality of state officials, stealing is still a bad behavior, not ethical enough to be a leader. Don't say sitting there blatantly squeezing other people with belly fat.
Let's see, when are you going to get the fire wrapper?
Not to mention the motivations of the whistleblower, only the accused behavior – the theft – the law needs to be clarified, the professional council is needed – even the copyright protection agencies appraise to do so clear. Be fair to the public: if you think the whistleblower is slander, you must also prove that the other person did not steal. Thesis touching, although it was taken down, but the photocopies were complete. Please prove "purity"!
The dissertation was taken down, and ambiguity began to appear. Just let the public prove it, but doing so is like a series of intellectuals unanimously covering the thief and the next law as a tool to help protect him?
The confidence of the people does not deserve to be hurt by the kind of cadres that lie, blatantly stealing the brains of others to paint education for their power.
And of course, if the law is in favor of a thief, the consequences are dire. It is impossible to defend wrong with a greater difference.
Let me see, and all the good guys, what are you going to do! "
Thoibao.de (Translated)