The development of the national multidimensional poverty line is the basis for the more accurate and comprehensive identification of the multidimensional poverty and near-poverty line, implemented by the Ministry of Labor, Invalids, and Social Affairs.
According to the Ministry of Labor, Invalids, and Social Affairs at the government conference with localities on December 29, 2020, the new national multidimensional poverty line, in the 2021-2025 period, is the basis for making policies, mechanisms, and solutions to achieve multidimensional and sustainable poverty reduction. Multi-dimensional poverty measures include income and access to basic social services.
The multidimensional poverty line is part of the concept of sustainable development set by the United Nations, and Vietnam bases its decision on its national multidimensional poverty line, the first explanation of economist Pham Chi Lan, former deputy head of Chamber of Commerce and Industry and an independent national researcher:
"In the new target, SDG Sustainable Development says multidimensional poverty, not normal poverty"
"Multi-dimensional poverty also refers to the cultural life of people's spirit. It must consider issues such as the ability to participate in learning, then enjoy cultural products, etc."
Vietnam, according to researcher Pham Chi Lan, has also stated the multidimensional poverty line in recent years, now gives indicators for the immediate 5-year period:
"I think it is very important because Vietnam is striving for 2025 to become a middle-income country, out of poverty and into a medium and then towards a high middle-income level. That is why it is necessary to define more clearly."
Based on the multi-dimensional poverty measurement approach criteria, the rural poverty line is VND700,000/person/month. The poverty line in urban areas is VND900,000/person/month.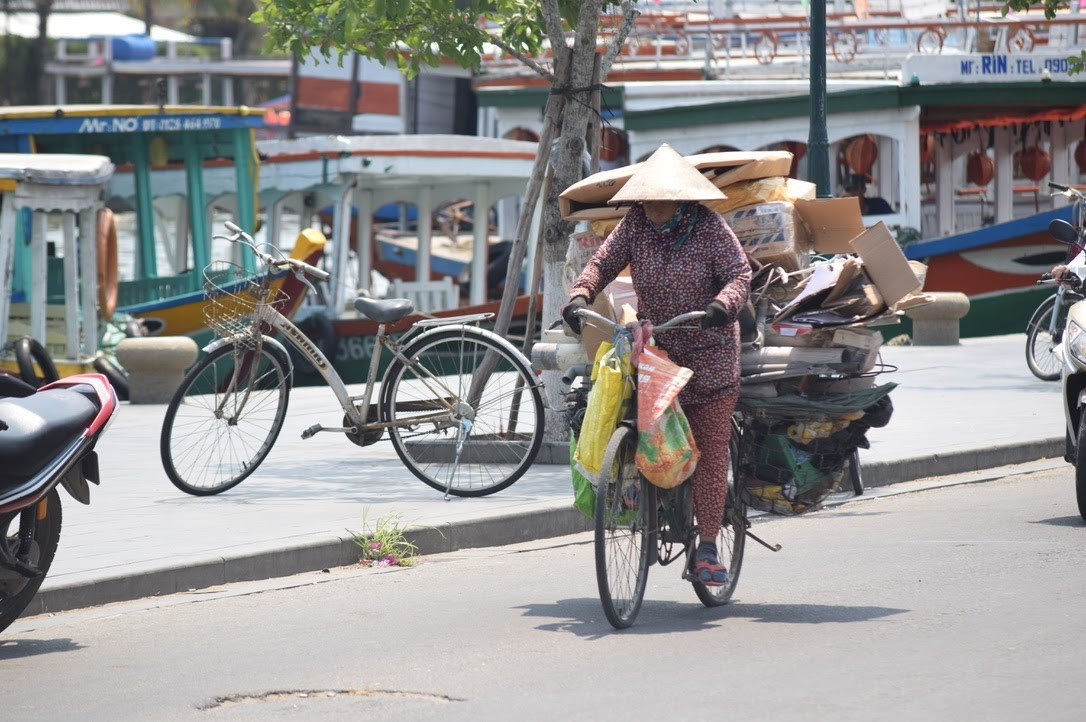 Near-poor households in rural areas have an average income per capita of VND1 million, while in urban areas it is VND1.3 million:
"Clearly, such a per capita income is only suitable with the requirements and living conditions of Vietnam today. Second, the number is small, but in Vietnam, if we measure purchasing power in terms of parity, that is for the poverty line in Vietnam I think is acceptable. As for the normal cost of living, the prices in Vietnam are significantly lower than in other countries. For example, a bowl of pho in the US is $10, in Vietnam is about $1, it is much different and everything else is the same."
With the practical view of a researcher, economist Pham Chi Lan further analyzes:
"Thirdly, the real-life of people, especially in rural areas, also has self-sufficient production. For example, daily food and drinks, vegetables, poultry, pig … also have something to sell and use. So there are many things in people's daily life and people have many different ways to make up for it, and if it is included in income, it is sometimes not calculated because it is part of self-sufficiency."
In general, the poverty standard for Vietnam, which the PM issued at the end of 2020, calculated in accordance with the current economic conditions of the country, Ms. Pham Chi Lan affirmed:
"I see to put a clearer figure in the regions to avoid the calculation saying 'per capita income goes up' but that per capita income increases that much when the share is high. belong to a very few people, but if the average divided by the people whose income is hundreds or thousands of times lower than them, in the end, the large number of people at lower income level in fact does not improve much. So much clarity is essential."
It is necessary for the Government to measure the social gap and real poverty alleviation. Wanting to move towards a high-middle-income country, Ms. Pham Chi Lan emphasized, it is very necessary to have a higher income and more equity in society.
Dr. Dinh Xuan Quan, UNDP expert – United Nations Development Program, spent 3 years working in Hanoi and then other developing countries, said:
"Having a number is relatively better. If Vietnam says that it is VND700,000/person/month in the countryside, the average poor get $1/day; VND900,000/poor person/month in the city is only $1.3/day. Compared to Asian countries with prices higher than Vietnam such as Thailand, Malaysia, Indonesia, the standard is quite low."
From the poverty reduction efforts in the past three decades, economist Dinh Xuan Quan believes that the income of $1.5-$2/person/day is the level that Vietnam must and can achieve in the next 5 years:
"It takes a lot of effort to bring the countryside up to the city. If the countryside is quite good, the average income of the people can be high."
However, by international standards, even reaching $1.5 to $2/day in the next 5 years as expected, Vietnam still cannot escape poverty:
"Because the urban and rural gap is too far away. Although the price is cheaper in rural areas, if they want services, if they want to send their children to school, they must pay. Raising a chicken and pig means they live on their own but they also have to pay, or other services they need to have."
"Especially now Vietnamese society starts to have many elderly people. It takes a lot of young people to have a lot of labor. Vietnam is not aging yet, but the age of 50 or 60 is starting a lot."
In short, according to Dr. Dinh Xuan Quan, Vietnam's 5-year or 10-year plan to escape poverty and raise average income from low to higher is feasible, but only within Vietnam's standards calculated according to UNDP United Nations Development Program standards:
"Compared to Indonesia, Malaysia, and Thailand are three Southeast Asian countries, all have prices a bit like Vietnam with the standard of living like Vietnam, but their poverty problem is much less than us. Not dare to talk about Taiwan, Hong Kong, Singapore, then South Korea or Japan, Vietnam must try hard."
It is known that the multidimensional poverty line applied from 2016 to 2020, in addition to the income and the gap between the rich and the poor, the level of lack of access to basic social services, access to health services; health insurance; adult education level; children's educational status, housing quality, housing area per capita; domestic water source; hygienic latrines; use of telecommunications services, properties for access to information, etc. are the criteria to be investigated in that period.
Since 1993, Vietnam has issued seven national poverty lines. The development of the national multidimensional poverty line for the 2021-2025 period is the latest plan with numbers.
A domestic sociologist, Ms. Tang Duyen Hong, director of the non-profit organization Coins For Change, said that in the process of raising the average income for the people, there must be a comparison with the neighbors, not just circulating internally and not seeing his differences anywhere:
"Increasing income per capita in Vietnam will of course be achieved even if the government doesn't have any good policies and just let it go. Before we didn't have TV nor Internet, now from the development of the world, of course, we also have those."
"Considering the multi-dimensional accessibility, the ability to access education, online Internet, the level of people escaping poverty and living standards will surely improve. That is the natural development of people as well as the economy when it integrates into the market."
Compared with other countries in Southeast Asia, Ms. Tang Duyen Hong commented, fear that Vietnam could not catch up with Cambodia or Laos with open policy and economic development.
Still, according to her, Myanmar in recent years has also eradicated poverty very well, not to mention Thailand has always led Vietnam in terms of development level.
Vietnam has sold out a lot of resources, the most important of which is human resources. The epidemic prevented Vietnam from continuing to export labor to other countries as a way to create jobs and income.
Will this slow Vietnam's progress toward income growth and access to development? The sociologist Tang Duyen Hong replied:
"Unless the state bans the Internet, prohibits e-commerce transactions, prohibits free business, prohibits private business … prohibits the use of capitalist countries' products and so on … the multidimensional standard of living cannot be backed down."
State data shows that in the 2016-2019 period, Vietnam had more than 6 million people out of poverty, and 2 million people out of near poverty. In 2020, the whole country is expected to have only 2.75% of poor households.
According to sources from the Ministry of Labor, Invalids, and Social Affairs, Vietnam strives to become a country with a higher average income by 2030. By 2045, Vietnam will be a high-income country in the region.
Just on January 3, PM Nguyen Xuan Phuc returned to Danang to attend a meeting to celebrate the 75th anniversary of the first general election to elect the National Assembly in Vietnam and summarize the activities of the 14th National Assembly of Quang Nam's National Assembly Delegation. On this occasion, Mr. Phuc said "Lunar New Year or Tet is coming, the party committee – the local government must take care of the people; not letting people upstairs feel happy while people downstairs find difficulties."
Vietnamese Communist since the 30s said that the proletariat brought "full rice, warm clothes' to destroy feudalism, landlords, and bourgeois exploitation of the people."
That ideal has yet to be realized, but in contrast, the rich-poor divide in Vietnamese society is getting worse and worse.
Thoibao.de (Translated)
Source: https://www.rfa.org/vietnamese/in_depth/new-poverty-standard-and-the-call-of-the-pm-to-close-the-gap-between-the-poor-and-the-rich-01052021194725.html