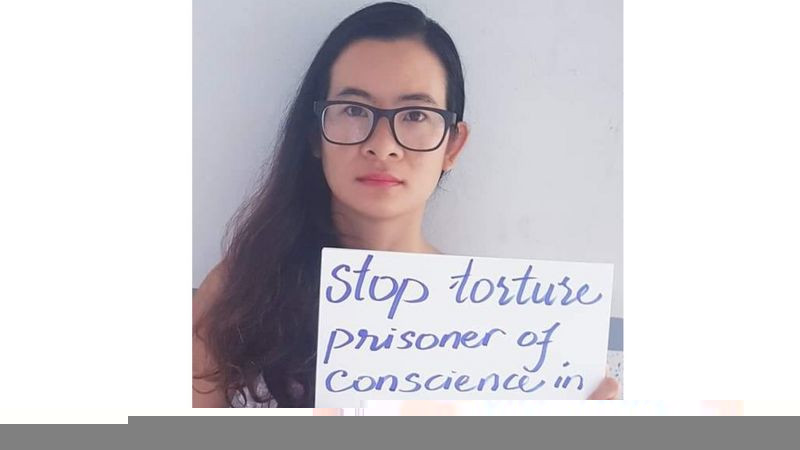 Activist Dinh Thi Thu Thuy was sentenced to 7 years in prison at the first-instance hearing carried out by the People's Court of Hau Giang province on January 20 as the trial panel found her guilty of "conducting anti-state propaganda" under Article 117 of the Criminal Code.
Speaking to BBC News Vietnamese after the trial, lawyer Nguyen Van Miengs, who defended Ms. Thuy, said the seven-year sentence for her crime was "too heavy."
He added: "This is a very special trial, only with the participation of three relatives of Ms. Thuy and 7 police officers. Unlike other cases, no more police officers."
"Among the evidence, there is a black t-shirt with a diagonal line of cow's tongue and 12 blue and white masks with a crossed-out cow's tongue line," said attorney Mieng.
Making her final statement after the verdict, Ms. Thu Thuy said her posts on Facebook personally stem from her love for her homeland, love for her children, the desire to improve the environment and education, but maybe her words were too strong so the local police investigated and arrested her, lawyer Tham reported.
What does the human rights organization say?
Phil Robertson, deputy Asia regional director for Human Rights Watch (HRW), said that Ms. Thuy's trial was "as well-mannered as the previous ones" in which the court was not independent but controlled by the ruling Communist Party of Vietnam which determined the punishment prior to the hearing.
In a press release released after the trial, HRW also urged the Vietnamese government to drop the charges against Ms. Thuy, and "stop using the Criminal Code to criminally adjudicate human rights practices."
"Once again, we are likely to see a Vietnamese citizen going to jail for doing what millions of people around the world do every day: posting their views on Facebook," the HRW press release wrote.
"Think a lot about my son"
During the most recent meeting with Ms. Thuy at the detention center at the end of December 2020, lawyer Mieng said that she thought a lot about her 9-year-old son and "did not ask anyone to lobby for pardon because she identified herself as a political prisoner."
"There are three conclusions of the thought assessment on documents printed from two Facebook pages of Ms. Thuy: 2 copies assessed by the Department of Culture, Sports and Tourism of Hau Giang province and collective assessment of 1 copy by the Ministry of Information and Communications."
"But the Department of Culture, Sports and Tourism does not have the function of judicial examination of political case's documents, the Department of Information and Communication has this function but refuses to examine because of insufficient capacity, so the Ministry of Information and Communications did it instead," said attorney Mieng.
Who is Dinh Thi Thu Thuy?
Ms. Thuy was arrested in April 2020 at her home in Lai Hieu ward, Nga Bay city, Hau Giang province, and charged with "making, storing, distributing or disseminating information documents and articles against the Socialist Republic of Vietnam."
Ms. Thu Thuy was born in 1982, is an aquatic engineer and a single mother.
Before that, she often posted articles about the social and political situation of Vietnam on her personal Facebook page.
Ms. Thuy also joined the Facebook group Cuu Long Xanh and Green Vitality – two groups working to protect the environment.
Vietnam's state-controlled media in April 2020 reported that Dinh Thi Thu Thuy was arrested because she "opened many personal Facebook accounts to edit, post, and share hundreds of propaganda materials, distorting and defaming honor. Party and State leaders."
The investigation results show that from 2018 up to now, Ms. Thuy has opened many personal Facebook accounts to post and share documents "propagating, distorting … defaming the honor of Party and State leaders; inciting private thought the opposition; spread false news, fabricated confusing among the people to destroy the Communist Party of Vietnam and the State of the Socialist Republic of Vietnam."
Ms. Thuy was also accused of using social media to publish articles to "distort the government's anti-Covid-19 work."
In addition, the conclusion of the investigation of the Vietnamese police said that Thuy was "gathered to cause trouble" at the Notre Dame Cathedral area in Ho Chi Minh City in June 2018.
Ms. Thuy was accused of having an attitude of "opposing and belittling the law" despite being "warned" many times.
Thoibao.de (Translated)
Source: https://www.bbc.com/vietnamese/vietnam-55715579